We have always been delighted with the service that Nigel and Peter provide. They have always been extremely knowledgeable, helpful, reliable and kind. We would be lost without them.

The Coronavirus has made the situation challenging but we are reassured by knowing they are at the end of the phone for advice and support.

Many Thanks.
I think that the service provided so far by Thompson and Son has been as good as anyone could have hoped for in these Covid ridden times. The fitting of my replacement hearing aid was done without fuss and expertly here at home. Communication has been excellent; I've been kept well informed about progress of the provision of a new device and all questions have been promptly answered. Good office work – as well as good audiology.
'I have been with T & S for 24 years and have always found Nigel and Peter to be extremely helpful and professional. I am very happy to recommend them.
I am very confident that Peter, Invisihear ensured I got the hearing aids that were right for me both in the features and more importantly the quality of hearing. As Invisihear now becomes Thompson and Son I am equally confident that the superb after care I have received from the whole team continue into the future and I wish them all the best with their full-time clinic.
I have been delighted with the service and advice provided so willingly. This has set me up with confidence for the future, especially when in discussion with friends and, at all times, in general conversation. Thank You.
I have been a Client of Nigel and Peter for just over 2 years now and have always been very satisfied with the attention I have received. As I live some 60 miles away I don't see them as often as others might so a trip to Wakefield has often resulted in a cream cake being offered – most welcome! I can only wish them much success and have no hesitation at all in recommending them.
Superb Professional service from Nigel and Peter. During several visits to our home, nothing was too much trouble for them. Highly recommended.
Very professional and always available. Knowledgeable on products.
I was introduced to this company by my insurers. Happy with the information enabling me to make an informed view on replacement hearing aids. Friendly and courteous service at my home. Appreciated.
I did not want hearing aids which communicated with each other by WiFi, so Nigel Thompson recommended and supplied an excellent pair of hearing aids designed for use without WiFi, satisfying my needs
Very impressed with the Audiologist and impressed with the efficiency of the equipment in the Clinic. My new hearing aid is more effective than my original one.
Service was for wax removal, Peter was punctual, friendly and professional. Given100% information required and patience was shown at all times.
The Clinic was inviting and met with my expectations. The Audiologist was very helpful and the information was very thorough. My appointments were made speedily and at my convenience.
These guys are amazing. Specifically, they have been looking after my mother's ears. Nigel cleans out even the most difficult of wax, provides great advice on hearing aids, exceptional cleaning of aids, diligent . . . even trains nursing home carers how to look after aids when the patient is too incapacitated.
After losing a hearing aid (when taking my mask off !) my Insurers put me in touch with Thompson and Son Hearing Care Specialists. How lucky was that! My initial phone call was with Karen. She had a clear and friendly voice and immediately put me at ease. Nigel Thompson, Audiologist, came to my home twice at the time arranged. He tested my hearing, suction cleared ear wax and fitted new Phonak hearing aids. He was very approachable, knowledgeable and patiently answered all my questions. I can certainly recommend this firm. Thank you Thompson and Son.


We would just like to thank the team for providing an excellent service, we only experienced thoughtful, polite, courteous and understanding with the service we received for my mother hearing aid supply in this difficult time.
I saw Alan today to check my hearing aids and remove wax from both ears.

I couldn't be more delighted with the results.

Thank You.
Bernafon Community Hub Official Launch
Thompson and Son joined up with Bernafon for the community Hub official launch on the 25-27th March 2022.
Many thanks to Steve at Bernafon for helping with the launch. Bernafon are a Swiss based hearing aid company providing high quality affordable products with some of the very latest in hearing aid innovation.
For more information please contact Thompson and Son Hearing on 0800 368 9011.
Hearing Aids Wakefield
Thompson & Son are a Wakefield based company who are here to make sure you get the best possible hearing care using discreet hearing aids and removing the stigma of wearing something more visible.

Charles Waterton House, Walton.
Thompson & Son have been situated in the heart of Walton since 1st March 2021
The clinic is open for pre-booked appointments. We are able to offer hearing assessments, fittings, services, repairs and both microsuction or irrigation wax removal.
Telephone: -0800 368 9011
---
Advanced Digital Hearing Aids with Artificial Intelligence (Ai)
There is a full range of digital hearing aids with Ai now available - When Nigel founded the first UK company to specialise in invisible and discreet hearing aids, digital hearing aid technology was in its infancy. Technology has advanced to such a degree that Ai is now incorporated into many of the systems, from Power BTE (Behind the Ear) to the tiniest IIC and certain styles are available as rechargeable instruments. Some hearing aids have up to 55 million personalized adjustments every hour and are expertly designed to automatically deliver realistic and genuine sound quality in every listening environment so you can hear and enjoy life.
Most hearing aids are now digital and can work automatically, there are no controls to worry about and no need to keep fiddling about and adjusting the settings. All speech and conversation sounds are detected, and the invisible hearing aids automatically increase these at different frequencies and adapt to each individual situation, so you hear and understand what is being said clearly. There are even waterproof hearing aids now available. Without your hearing aid to worry about, you are free to enjoy life and concentrate on hearing rather than your hearing aid.
The Invisible in Canal (IIC) hearing aid fits snugly in the second bend of your ear canal and uses the ear's acoustics for natural sound quality. The best feature is that, when it's worn, no one can see it!
The In the Canal (ITC) sits in the bowl of the ear it the entrance of the canal. These are available as both battery powered or rechargeable aids. These are easier to handle for those with dexterity issues.
The Receiver in Canal (RIC) is a small aid that sits at the back of the ear with a wire that hooks over the top and has a receiver that goes into the ear canal. Both comfortable and discreet.
The Behind the Ear (BTE) is the traditional aid that most people tend to imagine, however they are now much more discreet generally and contain all the features available in the other styles.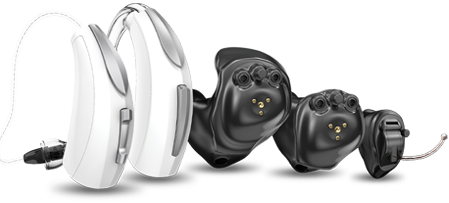 ---
FREE consultation
As we are independent of all hearing aid manufacturers, we are free to show you a wide range of hearing aids from all the major manufacturers, to give you the freedom of choice you deserve. We're here to help you find the right solution for you.
To book your FREE screening appointment, call us today on 0800 368 9011 or email us at tandshearing@gmail.com - we look forward to meeting you.
---
We Are
Experts
Qualified
And Trusted By The Following World Leaders In Digital Hearing Aid Technology